Last of the Hummingbirds for 2007?
September 04 2007 03:31 PM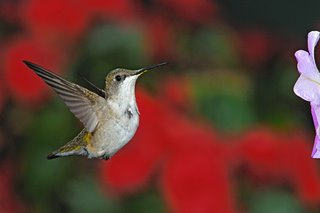 Well its surely sad to see them go. I had a lot of fun photographing these guys this year. It was a bumper crop of hummers for me. In April Gary and I went out to Arizona to photograph them, in June/July we photographed some more in our yard and at Sky Meadow, and in August and September on my deck.
I learned so much about these little guys this year and the best techniques to photograph them with. I enjoyed every chance I got to photograph them and I'm looking forward to doing it again next year.

Bye Bye Hummers I will patiently await your return as you bring the first signs of spring with you!