Spring Sure Is Slow In Getting Here
April 06 2007 09:43 PM
Well here it is April 6th and its only 39 degrees outside. What gives? I think Mother Nature is a bit confused. Or it could be that we are making up for the first few months of winter when the the temperatures were above normal. Some how it all has to balance out. In any case, there are some birds around but its still a bit to nippy to take the gear out and try to get some keepers. The Bluebirds were checking out the boxes this morning, they haven't decided which to use as their home yet. In the mean time here are a few images to keep our spirits up.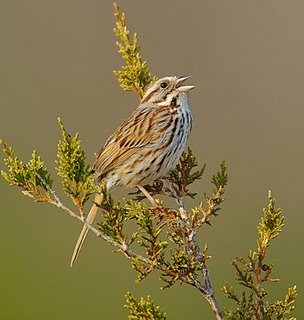 Here is an intersting tid bit of information. This shot of the song sparrow singing his heart out was taken just last year. The date was March 31, thats right it was already spring this time last year. I had a great time capturing this image, it was a quick stop before heading to the office. I think it was around 7 am or so. I have seen and heard song sparrows around already this year, but still its a bit to windy to go to this spot and try for another.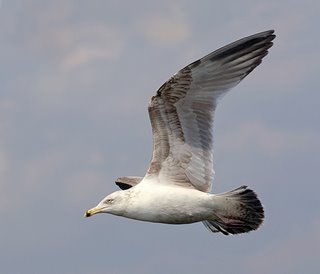 This Gull shot was taken down at the West Haven Boat Launch, right around April 6th last year. I had set out to try and get some flight shots with my new 70-200 VR. A quick stop at McDonalds for some fries to throw up in the air and off I went. To my surprise I didn't need the fries, some one was there feeding them bagels. This guy would throw out a pile of bagels and the Gulls would come in from all over. Eventually I got him to throw them up in the air so I could nail a few in flight shots. This is one of the better ones of the 300 or so I took. Next time I'm going to put the 1.4x on and try it again.