Of Maine, Moose and Mooseketeers?
September 07 2007 03:32 PM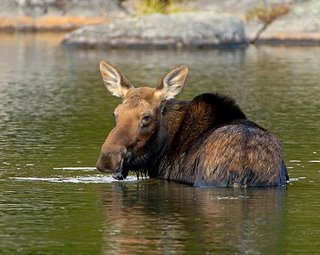 This cow was photographed in October of 2004 at Sandy Stream Pond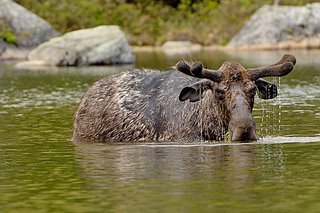 This young Bull was photographed in May of 2007 at Sandy Stream Pond

Just a few years ago, actually 2004, a few of my friends from the New Haven Camera Club invited me to come along on their yearly moose photography outing. This usually takes place around the second or third week in October and usually around the Baxter State Park or Millinocket area of Maine. Baxter State Park is a beautiful place, not only to see moose but to visit and enjoy nature at its finest.
My first moose trip was with Gary Prestash, Tom Cuchara and Bill Bartini. These guys were actually known as the 3 mooseketeers however since I joined them there were four. We changed the name to the 3 mooseketeers plus 1.
We spent many hours enjoying the rural life, looking for moose and just having a grand old time hanging out and joking around.
That year we really didn't see all that many moose but enough for me to get a good look at them and catch the bug that tells you to go find more.
Since that time I have made several trips on my own, with my family and a good friend (Joe Cafasso) we usually head up in the spring. There are advantages to the spring trip, the biggest being that there are many, many moose around. It seems that since they are trying to replenish the nutrients in their body they are out constantly looking for food after the long winter. The down side is that since its spring and warm weather is approaching the moose are shedding their winter coat for a summer one. So they look kind of mangy at best.
So I love tracking down moose and photographing them.
In the fall they have huge antlers that make the search for them rewarding but in the spring there are so many you can't help but find them to photograph.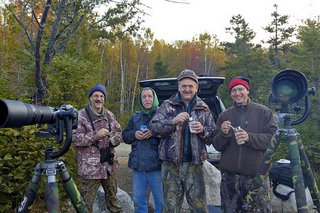 The Mooseketeers!!